​Today marks the 7th Anniversary since RecruitME started!
So… it's 2014, Chris Buck - Ex British Army and Howard Rudder – Ex-Royal Navy have the idea of setting up a recruitment company. After several months of blood, sweat and tears and A LOT of planning it's 2015 and we're open for business! Now the GRAFT really begins!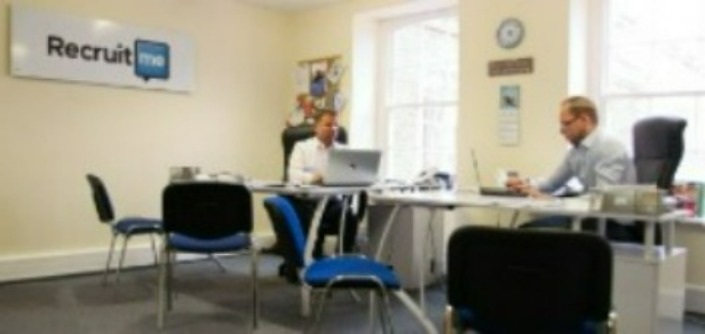 RecruitME begins trading, with Armed Forces Veterans & company founders Chris & Howard, in a tiny box room office in Grantham. Initial recruitment disciplines are Ex-Forces, HR, Finance, Supply Chain and Commercial Office Support. Following an article in the local newspaper the 'Grantham Journal' we were fortunate enough to gain our first client at 9 am on day 1!
​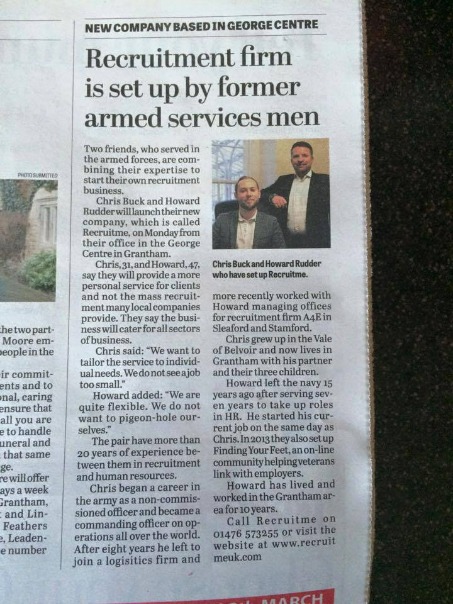 Months down the line and RecruitME become signatories of the Armed Forces Covenant, ensuring that those who serve or who have served in the Armed Forces, and their families, are treated fairly families at the same time we were awarded the ERS Employer Recognition Scheme Bronze award for our commitment.
​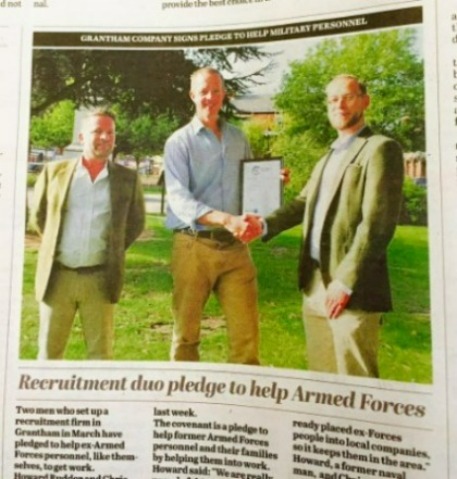 9 months after they opened their doors RecruitME won another award for the Grantham Target New Business of the Year Award, we managed to scoop the top prize at a glittering awards ceremony held at stoke Rochford Hall. Making it 2 awards in the first year of opening the RecruitME doors.
​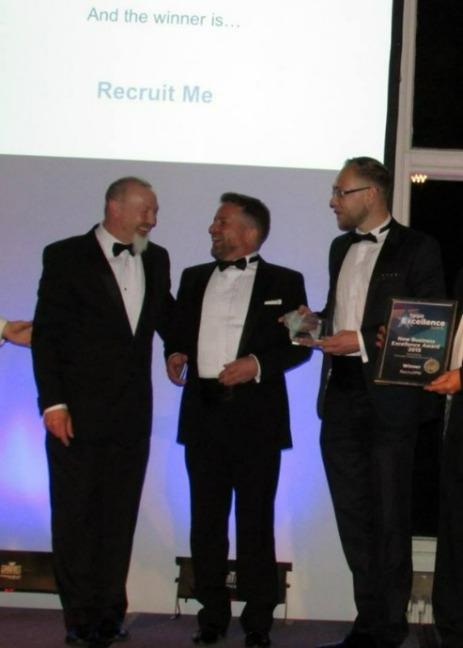 It's now 2016 and it's been a hard-fought 18 months, now time for an upgrade… A NEW OFFICE! Naturally, we outgrew our box room, so the move to our current premises in Lindpet House, Grantham, went without a hitch!
​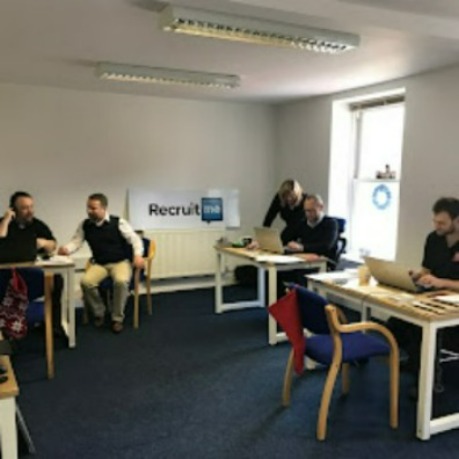 After a long 18 months of trading and a lot of effort in educating & persuading employers to hire people from the Armed Forces Community, out of nowhere we received a 'heads up' that we had been nominated for a prestigious Employer Recognition Scheme Silver Award. At a glittering ceremony, we found ourselves among a lot of national & blue-chip companies being awarded Silver for our commitment to the Armed Forces Community.
​
A quiet 2017 to the lead up to 2018 and we've gone and done it again, X-Forces Enterprise ambassadors!! We were delighted to be asked to become East Midlands Ambassadors for X-Forces Enterprises, the social enterprise that guided us through the process of setting up RecruitME. We announced it in style in front of 200 guests including Service Leavers, Veterans, Clients and DRM (Defence Relationship Management) with an incredible evening help at the International Bomber Command Centre.
​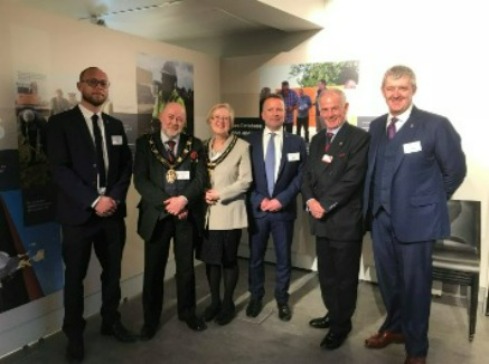 Early 2019 we were delighted to hear that we had been recognised as SAGE Power 50 business. The Sage power 50 was commissioned by Sage and supports their ongoing commitment to build sustainable social, economic, and entrepreneurial opportunities in safe local communities around Sages Foundation. The fourth year of trading saw us have our best trading year to date. We had record months, record individual sales and record company sales. Wow, what a year 2019 was!
​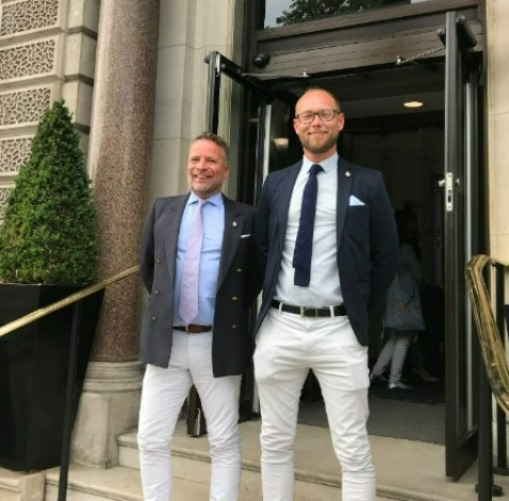 And 2020 comes around… Corona who?! Monday 23rd March, the Prime Minister announces that the Nation is to go into lockdown due to the Global Pandemic. We would remain in a strict nationwide lockdown for 3 months which would have a significant impact on not only RecruitME but the whole economy! The only upside throughout this time is we became one of the record 17 organisations in the East Midlands that achieved a Ministry of Defence Employer Recognition Scheme (ERS) Gold Award for actively demonstrating their support and advocacy for the Armed Forces Community.
​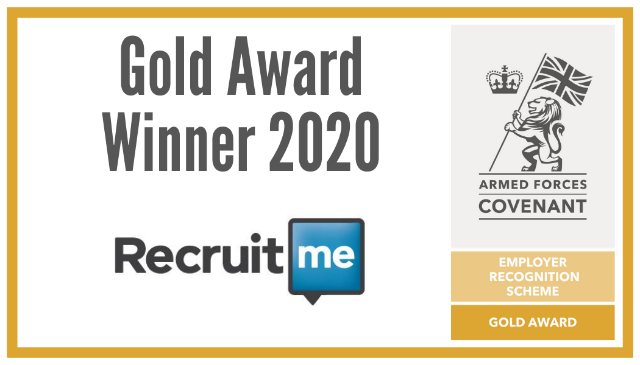 Growth in 2021 following the ever so apparent pandemic the team has expanded to 6 people in the office, Chris Buck, Howard Rudder, Ed Jepson, Devon Low, Sophie Giles, and Craig Gorman. With Ed getting promoted to Associate Director(well done Ed) the team was ready to tackle any challenges that face them along with breaking 2019's record in the office so we were ready for 2022.
​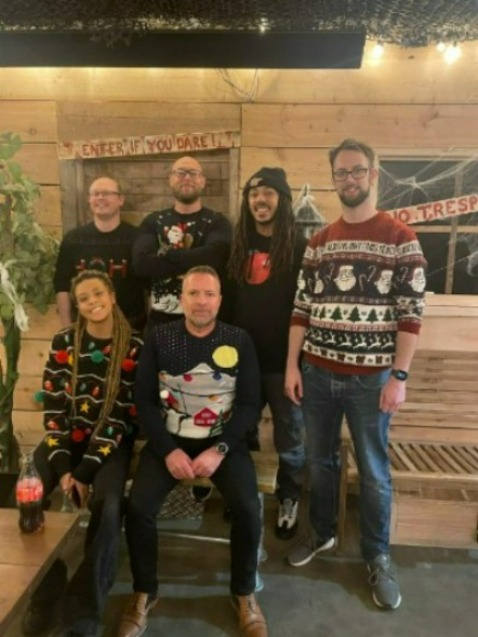 The team expanded again to 7 people (Welcome Shannon) with an ever-growing strong workforce, we're ready to see what this year brings!
​