So, what are The Benefits Of Hiring A Veteran?
Firstly, what is a Veteran?
According to Census 2021 "People who have previously served in the regular or reserve UK armed forces are often known as veterans."
As a veteran owned recruitment company, we want to highlight why hiring a veteran is beneficial for your company:
Let's start with setting goals, like in business you set targets and goals so you can take the most appropriate steps so you can achieve them. Veterans are used to developing professional goals for themselves and taking action in order to do so, Indeed Career Guide says "Hiring an employee who is familiar with career development strategies and can immediately participate in any organizational goal setting can add immediate value." In every aspect of their role, you can develop and feed each other your goals to achieve greatness and build on this.
Responsibility and being Decisive is important in many aspects of life, paired together the outcome on the battlefield or now business is knowing and recognising could be the difference of profit or loss. Veterans understand this and most take their job seriously, even if it's not remotely dangerous. Veterans are usually great decision makers, they've learnt how to make independent decisions based on quick situation analysis. Veterans with this skill are great for business and make excellent hiring choices for roles that require heavy on decision making.
A workday wouldn't be complete without problems which is why Veterans are excellent at solving problems quickly and efficiently, similar to decision making they've learnt how to solve problems based on years and years of being under pressure.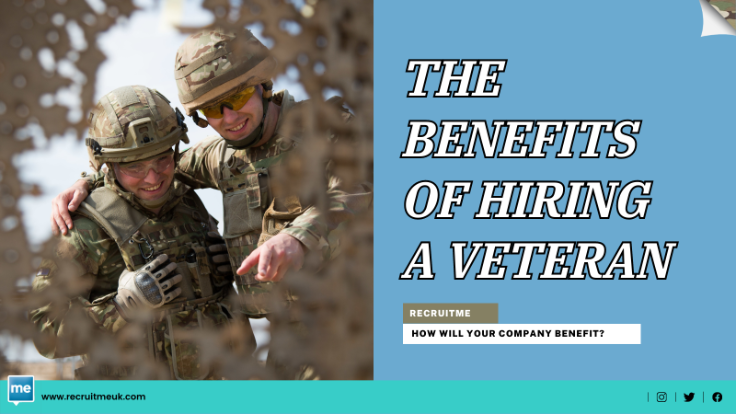 Having a broad worldview can be very beneficial for your business as nearly all veterans end up serving in a different country where they were born and raised. Veterans often adapt to different cultures and demographics to all types of personalities. Having experienced this their broad worldview is often open minded and welcoming of people from different backgrounds.
In all jobs to get the most out of what it is you want to achieve being trainable is a highly underrated skill. Veterans are highly trainable employees and tend to adapt quickly to new tasks, teams, and environments.
Consistency, consistency, consistency, veterans are consistent! After all the hard work over the years, from training at the same time every day, working efficiency and concisely. Finding a veteran to stay climbing the ladder of success to show up and perform every day is a given. Whilst staying consistent, they build resiliency from facing challenges head on and overcome challenges. As the world progresses technology expand and go beyond what we can imagine, Veterans can be technologically savvy as some require advanced technology training which can massively benefit your organization.
We can't forget about teamwork, can we? Veterans spend a lot of time in a tight knit community who've spent years working together so transferring this skill over into the workplace it'll be like second nature. Many veterans are team-orientated and will work closely with their work colleagues to get the job done effectively.
So, what are you waiting for? Hire a Veteran today!
Sources: